KNORR American Tomato Chilli Relish GF 2.15 kg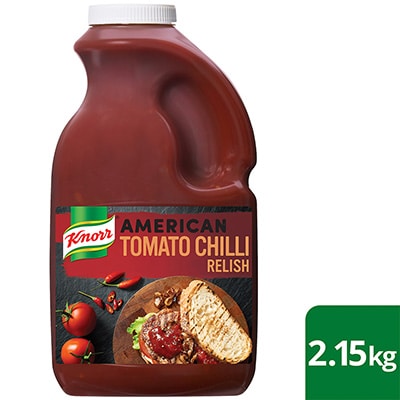 KNORR American Tomato Chilli Relish GF 2.15 kg
How this product will help you
A spicy, tangy relish made with tomatoes and chillies, perfect to pair with burgers, wraps, sandwiches, pizza, hot dogs, wedges and more.
This gluten-free sauce does not contain artificial colours, artificial flavours or added MSG.
More Product Information
All product information
Benefits & Allergen Information
KNORR Gluten Free

KNORR Bain Marie Stable

No Added MSG

No Artificial Flavours

KNORR Freeze Thaw Stable

Recycle

Suitable for Vegetarians

No Artificial Colours
Ingredients
Tomatoes (42%) (from paste and dice), sugar, onions (20%), balsamic vinegar, chilli (2.4%), salt, lemon juice concentrate, firming agent (509).