Spanish Corn Fritters
Let SPAIN REIGN on your plate with this crunchy fritter and smashed avo number. Serve it as a main, or make it bite-size with sauces on the side, for a perfect snack on your delivery menu.
Cafe/Takeaway
Casual Dining
Vegetables
Snacks & Sides
Other European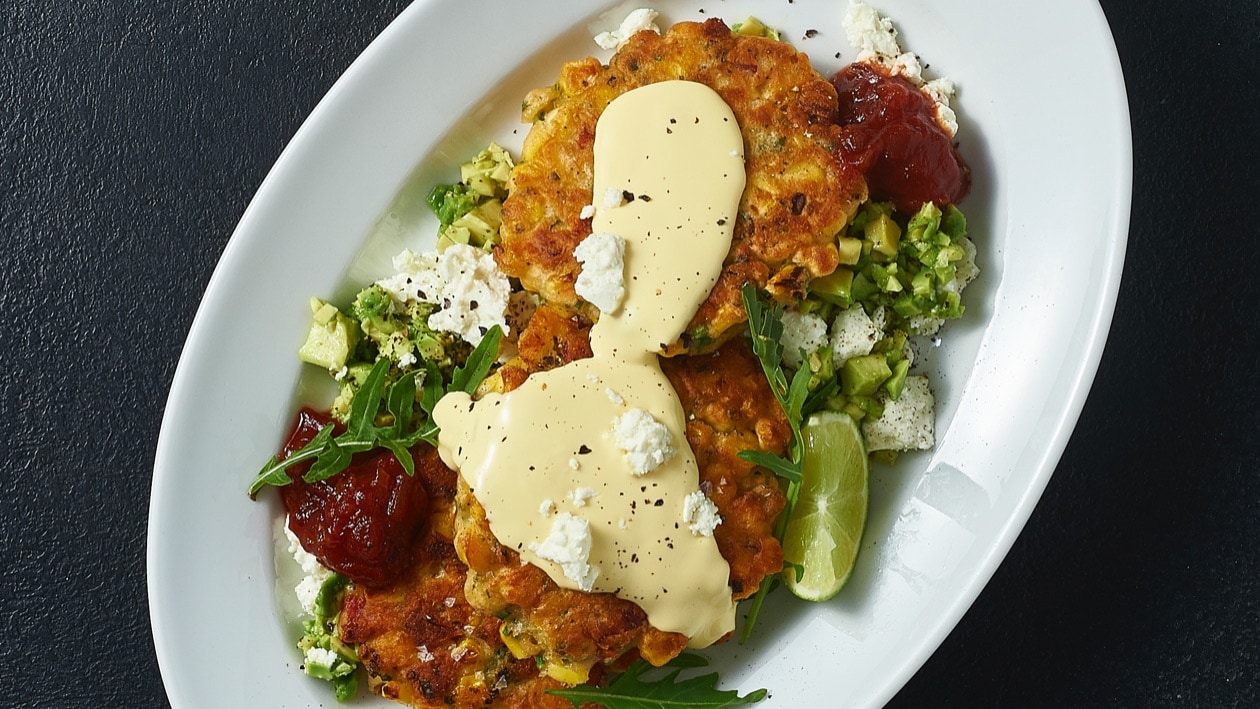 Ingredients per serve
Spanish Corn Fritters
Method
Corn kernels, drained
/g
600.0 g
0%
Chives, chopped
/g
40.0 g
0%
Spanish Chorizo, finely diced
/pc
3.0 pc
0%
Fetta, crumbled
/g
100.0 g
0%
Avocado, ripe
/pc
4.0 pc
0%
KNORR Thai Lime Powder 500 g
/g
20.0 g
0%
KNORR Hollandaise Gluten Free Sauce 1 L
/l
1.0 l
0%
KNORR American Tomato Chilli Relish GF 2.15 kg
/ml
500.0 ml
0%
Method
Corn kernels, drained

600.0 g

Spanish Chorizo, finely diced

3.0 pc
Preparation
Method

Sieve flour into a bowl. Crack eggs into a separate bowl and whisk in milk, salt and pepper.
Make a well in the centre of the flour and pour in milk mix, fold to combine. Fold in the corn, chives, chorizo and feta. Set aside until pan is ready.
Harvest the flesh from the avocado and sprinkle with KNORR Thai Lime Powder. Use a fork to smash avocado flesh to desired texture.
Place KNORR Hollandaise Sauce GF into a pot and heat slowly, stirring occasionally.
Take a pan and heat over medium flame. Lightly oil the pan and spoon fritter mix into pan, cook until both sides are browned.
Remove and serve together with hollandaise, relish and Dukkah.