KNORR Rich Brown Gravy 7.5 kg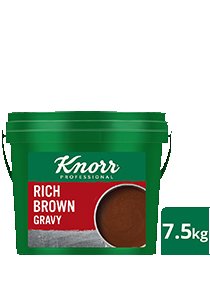 KNORR Rich Brown Gravy 7.5 kg
How this product will help you
An all-time favourite, classic gravy adored for its rich, pronounced flavours.
The go-to-classic universal gravy for everything from steaks, pies and casseroles to new twists.
It's suitable even for vegetarian dishes.
More Product Information
All product information
Benefits & Allergen Information
KNORR Cook Chill Stable

KNORR Bain Marie Stable

Suitable for Vegetarians

KNORR Classic Gravy Taste
Nutrition Information
Download product information
Typical values
Energy, including dietary fibre (kJ)
Carbohydrate, total (g)
Sodium (mg)
Protein (g)
Cholesterol (mg)
Dietary Fibre (g)
Fat, total (g)
Saturated fatty acids, total (g)
Monounsaturated fatty acids, total (g)
Polyunsaturated fatty acids, total (g)
Sugars, total (g)
Suitable for vegetarians who consume dairy and egg.
Additional Benefits
KNORR Cook Chill Stable
KNORR Bain Marie Stable
Suitable for Vegetarians
KNORR Classic Gravy Taste