KNORR Tomato Powder 850 g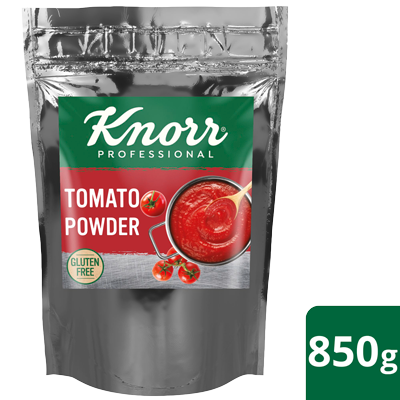 KNORR Tomato Powder 850 g
How this product will help you
Made by dehydrating 100% sustainably-grown tomatoes, KNORR Tomato Powder delivers more yield of a rich, pulpy and well-balanced tomato sauce in just 1 minute, saving you time, effort and space compared to canned tomatoes.
Ideal for professional chefs, this product has no artificial colours, flavours or added MSG and is Gluten Free, Halal and Vegan certified to meet more dietary needs.
Great for pasta napoli, pizzas, butter chicken, braises and stews.
More Product Information
All product information
Benefits & Allergen Information
KNORR Gluten Free

KNORR Cook Chill Stable

KNORR Bain Marie Stable

No Added MSG

No Artificial Flavours

Vegan Australia Certified

Halal Certified

No Artificial Colours
Additional Benefits
KNORR Gluten Free
KNORR Cook Chill Stable
KNORR Bain Marie Stable
No Added MSG
No Artificial Flavours
Vegan Australia Certified
Halal Certified
No Artificial Colours