Sausage Ragu
Like a shredded beef ragu, cooking this sausage pasta longer gives it time to develop deep, complex flavours. Make it for an Italian themed night with addition of garlic bread and garden salad with Italian dressing.
Aged Care
Pork
Main Meals
Local Favourites
Italian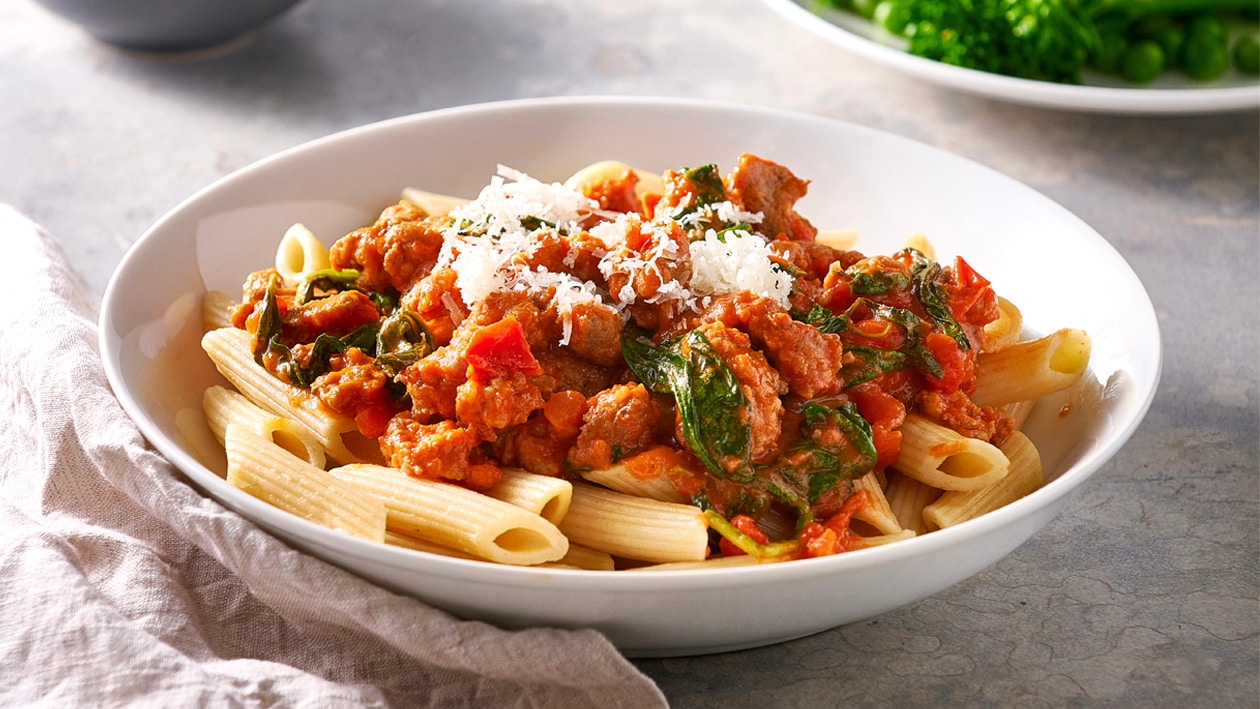 Ingredients per serve
Sausage Ragu
Pasta
Penne pasta
/kg
1.0 kg
0%
Pork Sausages (Italian)
/x
20.0 x
0%
Onion, chopped
/g
300.0 g
0%
Garlic cloves, crushed
/x
4.0 x
0%
Pasta Sauce
KNORR Italiana Pronto Napoli GF 4.15 kg
/g
600.0 g
0%
KNORR Hollandaise Gluten Free Sauce 1 L
/g
250.0 g
0%
Baby spinach
/g
250.0 g
0%
Pasta
Pork Sausages (Italian)

20.0 x

Garlic cloves, crushed

4.0 x
Pasta Sauce
Preparation
Pasta

Cook pasta in a large pan of salted boiling water until al dente. Drain and keep warm.
Squeeze mince from sausages. Heat oil in a large pan over high heat. Add sausage mince and onion and cook for 10 minutes.

Pasta Sauce

Pour in combined KNORR Italiana Pronto Napoli and KNORR Hollandaise. Simmer on low heat for 20 minutes then add spinach. Cook for another 5 minutes until spinach is wilted.

To Serve

Divide pasta between serving bowls. Top with sauce and sprinkle with parmesan. Serve with steamed greens or salad.