Fisherman's Broth
This traditional seafood soup is hearty and full of authentic flavours. Frying up some panko crumbs with smoky paprika and chopped parsley for a tasty crispy garnish is a nice touch too.x
Casual Dining
Seafood
Soups
Main Meals
Other European
American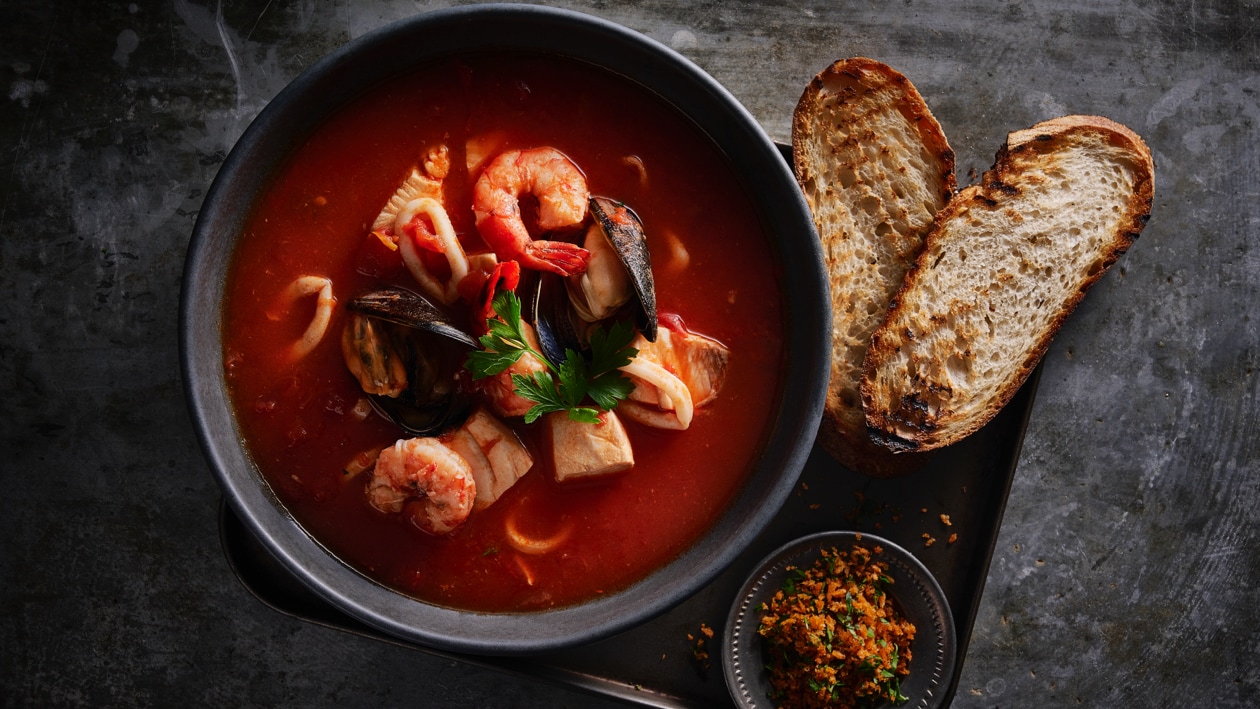 Ingredients per serve
Fisherman's Broth
Seafood
Orange roughy
/x
3.0 x
0%
KNORR Concentrated Liquid Stock, Chicken
/ml
25.0 ml
0%
Soup
Garlic cloves
/x
4.0 x
0%
KNORR Italiana Pronto Napoli GF 4.15 kg
/g
750.0 g
0%
KNORR Intense Flavours Roast Umami 400 ml
/ml
40.0 ml
0%
Smoked paprika
/g
15.0 g
0%
White wine
/ml
200.0 ml
0%
KNORR Hollandaise Gluten Free Sauce 1 L
/ml
100.0 ml
0%
Seafood
KNORR Concentrated Liquid Stock, Chicken

25.0 ml
Soup
Preparation
Seafood

Fillet orange roughy, reserving bones and head. Shell prawns, keeping tails on. Cut fish fillets into 4 cm pieces. Cut squid hoods into rings. Scrub mussels and steam until opened. Discard any unopened.
Roast fish offcuts and prawn heads and shells in combi oven at 160 degree Celsius for 20 minutes then transfer to a large pan with 5 L water, KNORR Concentrated Liquid Stock, Chicken and bay leaves. Simmer for 1 hour then strain and discard shells.

Soup

Heat oil in pan, add chopped onion and finely chopped garlic. Cook for 10 minutes then add strained stock, KNORR Italiana Pronto Napoli, KNORR Intense Flavours Roast Umami, smoked paprika and wine. Bring to the boil then simmer over low heat for 45 minutes.
Add diced fish, mussels, prawns and squid and cook for a further 5 minutes until cooked through. Stir through mussels and KNORR Hollandaise Sauce. Cook for another 2-3 minutes then serve with crispy paprika breadcrumbs if desired.