CONTINENTAL Professional Gluten Free Chicken Booster 8 kg
CONTINENTAL Professional Gluten Free Chicken Booster 8 kg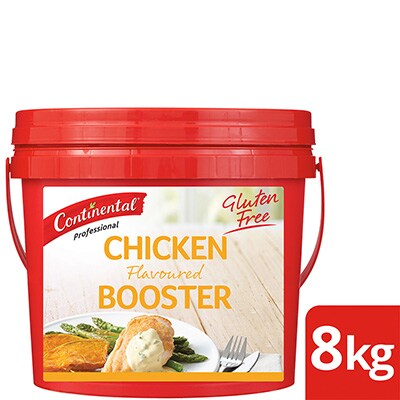 CONTINENTAL Professional Gluten Free Chicken Booster 8 kg
How this product will help you
Specifically designed for the needs of foodservice professionals.
Deliver consistent results no matter who is cooking.
It's gluten free and has no added MSG .
More Product Information
All product information
Benefits & Allergen Information
No Added MSG

Gluten Free
Ingredients
Salt, maltodextrin (from maize), sugar, flavour (contains milk derivatives), vegetable oil (sunflower), flavour enhancers (635, 627), yeast extract, colours (turmeric, caramel IV).
Key product information
Description
CONTINENTAL Professional Chicken Booster is gluten free, has no added MSG and has a 24 month shelf life. Also available in a 2.3 kg pack size.
Usage information
Preparation
As a Liquid Stock, using the serving quantities table as a guide, add desired amount of CONTINENTAL Professional Booster to boiling water and stir. As a Flavour Booster, add desired amount of CONTINENTAL Professional Booster while cooking, to add flavour to a dish. The amount of CONTINENTAL Professional Booster needed will vary according to the level of flavour intensity required.
Yield
Servings per package - 3200. Serving size - 2.5 g.
Benefits
Instant application.
Storage
Replace lid tightly. Store in a cool, dry place. Contents may settle in transit.