Savoury Stuffed French Toast with Maple Hollandaise
French toast is a delicacy, especially when served with bacon and maple syrup. This version takes it to another level - French toast brioche sandwiches filled with gooey cheese and crispy bacon drizzled with maple flavoured hollandaise sauce. Delish!
Casual Dining
Eggs
Pork
Main Meals
Breakfast & Brunch
Other European
American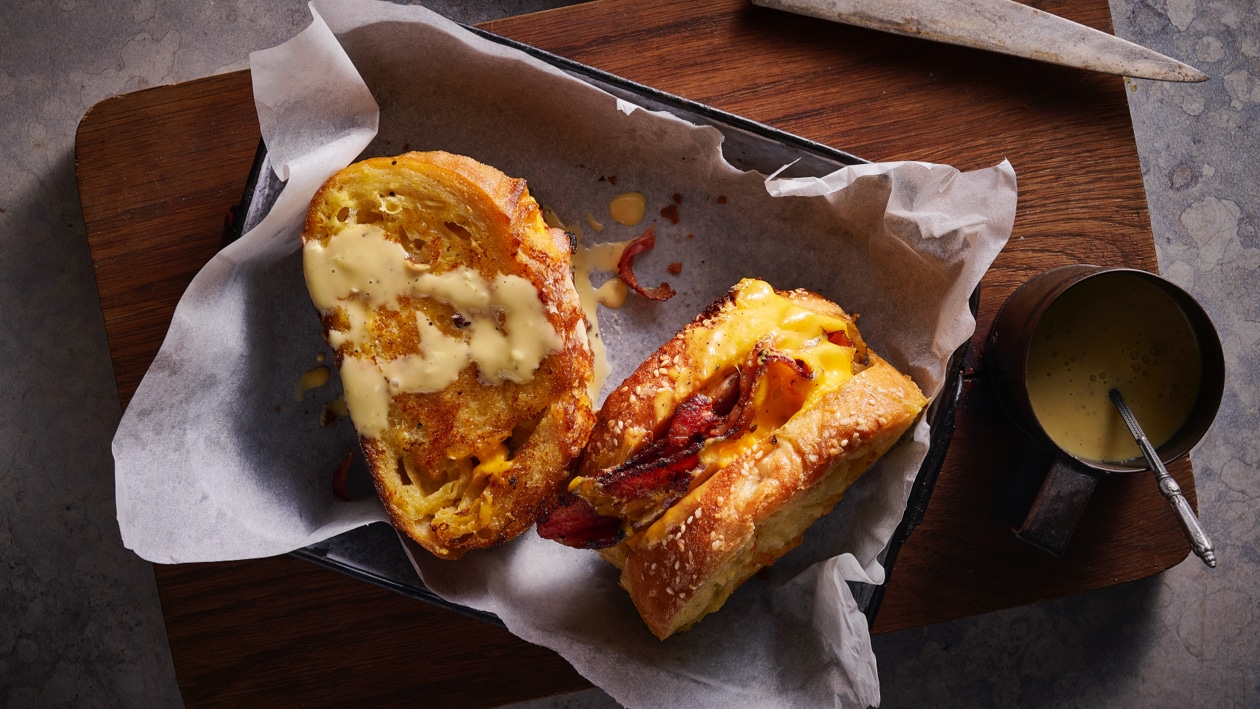 Ingredients per serve
Savoury Stuffed French Toast with Maple Hollandaise
To Prepare
Bacon, rashers
/x
15.0 x
0%
Brioche slices
/x
20.0 x
0%
Garlic cloves
/x
2.0 x
0%
Monterey Jack cheese
/g
500.0 g
0%
KNORR Hollandaise Gluten Free Sauce 1 L
/g
350.0 g
0%
Maple syrup
/ml
50.0 ml
0%
To Prepare
Monterey Jack cheese

500.0 g
Preparation
To Prepare

Cook bacon until crisp and golden. Drain.
Whisk eggs and milk together until fully combined. Season.
Rub each slice of brioche with garlic, then working in batches dip brioche in custard mix.
Pan fry brioche slices until golden then drain.
Mix KNORR Hollandaise Sauce and maple syrup together until combined.

To Serve

Arrange sliced Monterey Jack cheese and bacon over half of the cooked brioche slices. Top with remaining brioche to make ten sandwiches.
Place in a preheated combi oven and cook at 180 degree Celsius for 3-4 minutes until cheese is fully melted. Serve immediately with maple hollandaise.