Hush Puppy Onion Rings with Smoked Maple Carrot Tahini
This recipe has nothing to do with shoes, it's all about thick cut, fresh onion rings dipped in what is typically a corn dog recipe batter, then golden fried to perfection. The dipping part of this recipe takes it to a whole new level. (No puppies were harmed during the making of this recipe)
Casual Dining
Vegetables
Snacks & Sides
American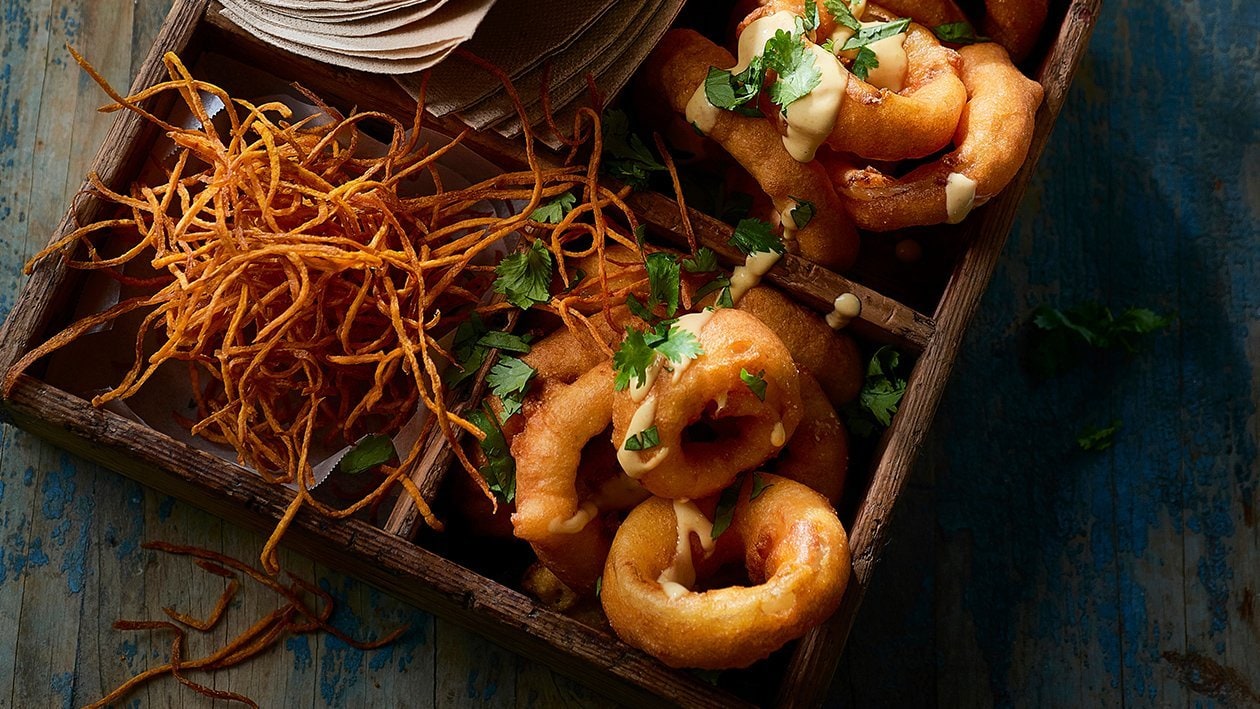 Ingredients per serve
Hush Puppy Onion Rings with Smoked Maple Carrot Tahini
Method
Maple syrup
/ml
20.0 ml
0%
HELLMANN'S Real Aioli 2.35 kg
/g
300.0 g
0%
Self raising flour
/g
100.0 g
0%
Polenta (corn meal)
/g
100.0 g
0%
Method
Self raising flour

100.0 g

Polenta (corn meal)

100.0 g
Preparation
Method

Clean and peel carrots, steam until tender.
Heat wood chips in a large pot until smoking. Turn off the heat, place the cooked carrots in a basket, cover and lightly smoke for 5 minutes.
Place smoked carrots in a food processor with maple syrup, tahini and HELLMANN'S Real Aioli, then blitz until smooth. Refrigerate.
Peel and slice onions into rings.
Combine the remaining ingredients and whisk to a batter consistency. Dust the onion rings in flour then dip in the batter.
Deep fry at 180 degree Celsius until golden. Drain.
Serve onion rings with carrot dipping sauce.