French Dip Sandwich
The story of the French dip sandwich originates in Los Angeles in the early 1900's, but as with a lot of famous dishes two restaurants are disputing as to who came up with the idea first.
Casual Dining
Beef
Sandwiches & Wraps
Main Meals
Local Favourites
Other European
American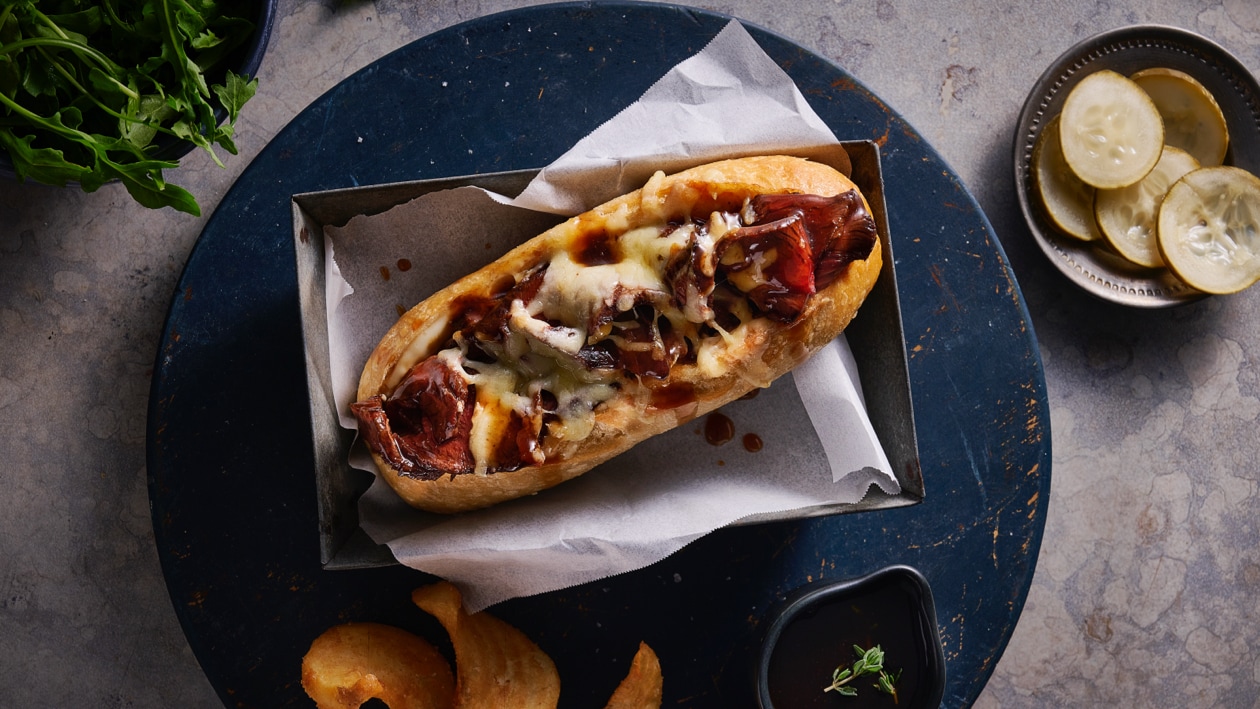 Ingredients per serve
French Dip Sandwich
Steak
KNORR Intense Flavours Deep Smoke 400 ml
/ml
20.0 ml
0%
Jus
KNORR Jus Gluten Free 1.8kg
/g
75.0 g
0%
To Assemble
Crusty long rolls
/x
10.0 x
0%
HELLMANN'S Real Mayonnaise 2.4 kg
/g
200.0 g
0%
Garlic cloves
/x
2.0 x
0%
Gruyere cheese
/g
200.0 g
0%
Steak
Jus
To Assemble
Preparation
Steak

Mix half of the KNORR Intense Flavours Deep Smoke with olive oil and 125 ml water until fully combined. Add steak and marinate for 30 minutes.
Cook steak on a hot grill until medium rare. Set aside then slice thinly. Keep warm.

Jus

Combine KNORR Jus with the remaining KNORR Intense Flavours Deep Smoke and 500 ml warm water in a pan whisking until smooth. Bring to the boil, reduce heat, add thyme leaves and simmer for 2-3 minutes.

To Assemble

Cut along the centre of rolls and remove a little of the bread. Combine HELLMANN's Real Mayonnaise with crushed garlic and spread inside rolls.
Take sliced steak and dip in prepared jus, coating well. Transfer to the rolls. Top with grated gruyere.
Place under grill until gruyere is melted.

To Serve

Serve immediately with chips and dill pickles.