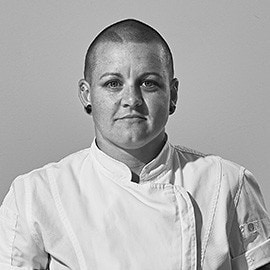 I have 16 years of experience as a Chef across numerous different parts of the industry. I am also a Certified culinary judge and a Diplome De Direction De Cuisine.
What I love most about being a Chef is the ability to keep learning... from basic skills to molecular gastronomy and everything in-between. I love the challenges, the new found and/or improved produce and the ever-changing trends. I'm always discovering something new in the produce we use and I enjoy taking the time to research it and use it to educate others. I continue to push myself to learn, evolve and develop my skills in every way possible.
I joined the team at UFS in March 2018 to see the hospitality industry in a new light. I wanted to get involved in the production and development of products that help Chefs in a variety of ways in their day to day operations.
When I'm not at UFS I spend my time in commercial kitchens helping friends in the industry with their catering business, as well as a small side project of my own. But after my working day is done I head home to my family to enjoy outdoor activities, exercise, adventures and lighting the coals to create a home cooked meal with a cup of tea.