Provolone and Pancetta Croquettes
These versatile croquettes can be served with all manner of fillings. Try smoked trout, pulled beef, proscuitto or add vegetables such as leek, corn or fennel. Any good melting cheese such as mozzarella, gruyere, parmesan or mature cheddar goes well.
Casual Dining
Pork
Snacks & Sides
Other European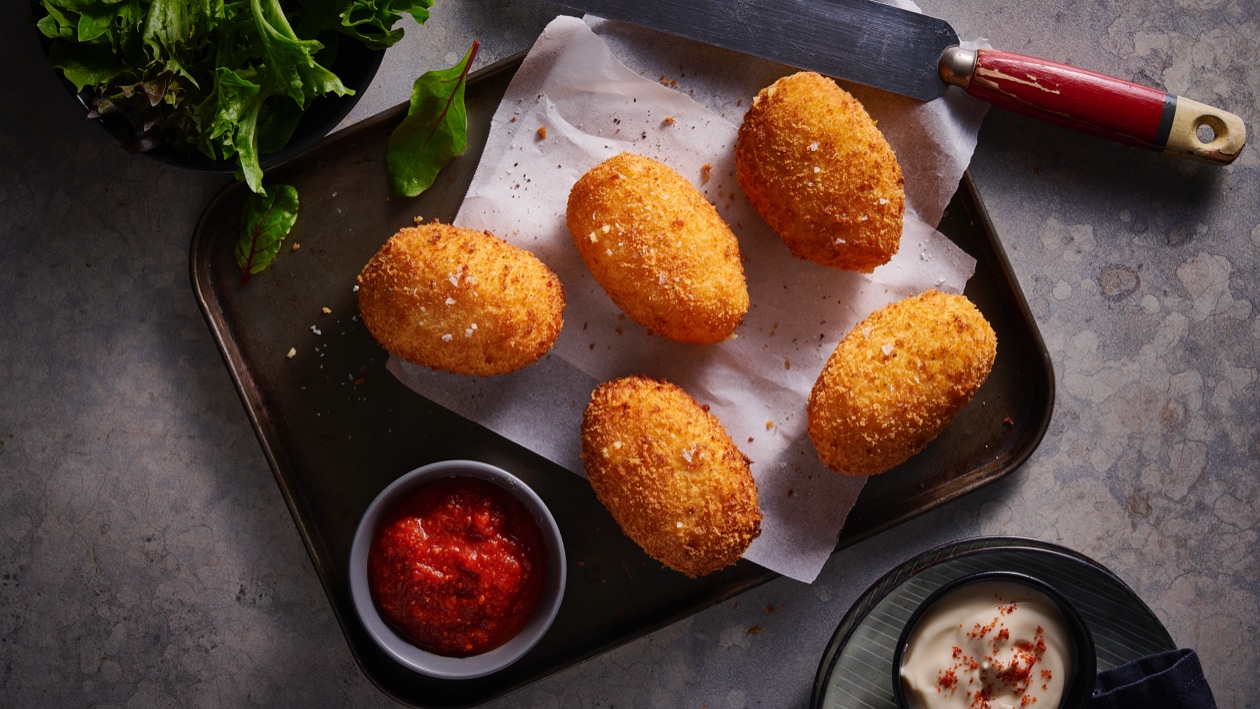 Ingredients per serve
Provolone and Pancetta Croquettes
Croquettes
Garlic cloves
/x
3.0 x
0%
KNORR Potato Flakes GF 4kg
/g
225.0 g
0%
Plain flour
/g
250.0 g
0%
Panko breadcrumbs
/g
750.0 g
0%
Smoky Aioli
HELLMANN'S Real Mayonnaise 2.4 kg
/g
250.0 g
0%
KNORR Intense Flavours Deep Smoke 400 ml
/ml
50.0 ml
0%
Croquettes
Panko breadcrumbs

750.0 g
Smoky Aioli
Preparation
Croquettes

Finely chop pancetta. Heat oil in a frying pan over medium heat. Sauté pancetta for 3-4 minutes until golden. Add crushed garlic, sauté for another minute then remove from heat and drain on paper towel.
Heat 1 L water in a large pan. When it comes to the boil remove from the heat and add KNORR Potato Flakes and butter. Whisk until smooth then cool.
Fold pancetta and roughly grated provolone through potato mash until combined. Season.
Roll ¼ cup mixture into an egg shape. Place on a tray then repeat with remaining mixture. Cover and chill for 20 minutes to firm up.

Place flour, eggs, and panko crumbs in separate bowls. Season flour. Whisk eggs with some water to make an egg wash.
Roll croquettes in flour, then dip in egg wash and coat in panko crumbs.

Smoky Aioli

Mix HELLMANN's Real Mayonnaise and KNORR Intense Flavours Deep Smoke together until fully combined.

To Serve

Deep fry croquettes in batches for 4-5 minutes or until golden brown. Drain.

Serve croquettes immediately with smoky aioli. Alternatively try serving with KNORR American Tomato Chilli Relish.