Pork Belly with Sauteed Apples and Cider Gravy
Moist, succulent pork belly pairs with tender sautéed apples and mash. Serve it with a perfectly balanced Cider Gravy and you have a winner.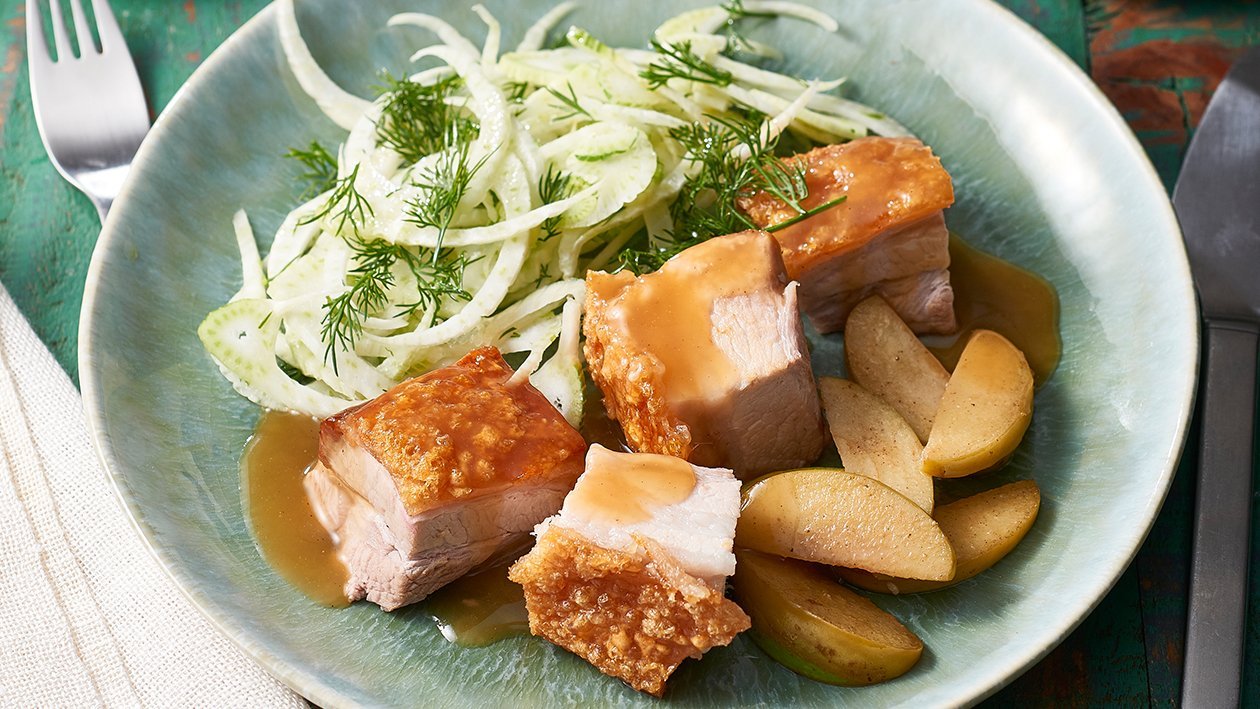 Ingredients per serve
Pork Belly with Sauteed Apples and Cider Gravy
Method
Salt, For Rubbing
/
0.0
0%
Apples, green
/x
4.0 x
0%
Oil, extra
/ml
25.0 ml
0%
Butter, chopped
/g
40.0 g
0%
KNORR Golden Roast Gravy Gluten Free 1.8kg
/g
50.0 g
0%
Apple cider
/ml
100.0 ml
0%
KNORR Potato Flakes GF 4kg
/g
160.0 g
0%
Fennel Slaw, To Serve
/
0.0
0%
Method
Preparation
Method

Score the pork with a sharp knife, then rub generously with oil. Place in a large baking dish and bake at 220°C for 20 minutes in a combi oven until skin is crisp. Reduce heat and continue cooking for 1 hour or until cooked through.
Peel and core apples then cut into wedges. Heat a large pan over medium high heat and add oil and butter. Once butter has melted add the apples. Sauté for 10 minutes or until starting to soften, then stir in cider. Cook for a minute then add KNORR Golden Roast Gravy and 400ml of water. Simmer for 3-4 minutes until gravy is thickened and slightly reduced and apples are tender. Keep warm.
Bring 650ml of water and salt to the boil, turn off heat and add cold milk. Whisk in KNORR Potato Flakes, until well combined. Allow to stand for 2-3 minutes and whisk once more before serving.
Cut pork into portions and transfer to serving plates. Spoon over sautéed apples and gravy.

To Serve

Serve with potato mash and fennel slaw.