SIR THOMAS LIPTON Peppermint Envelope Tea 25's
SIR THOMAS LIPTON Peppermint Envelope Tea 25's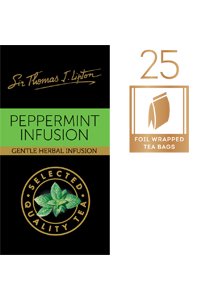 SIR THOMAS LIPTON Peppermint Envelope Tea 25's
All product information
Benefits & Allergen Information
Halal Certified
Key product information
Description
Herbal Infusion. A clean and refreshing peppermint infusion.
Usage information
Preparation
Place one herbal bag for each person in a cup or pot. Pour in fresh boiling water. Allow to infuse for 4-5 minutes.
Yield
Weight - 37.5 g. Weight per serving/portion - 1.5 g.
Storage
Store in a cool dry place.