SIR THOMAS LIPTON Forest Berries Envelope 25's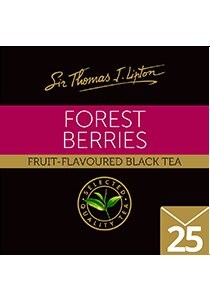 SIR THOMAS LIPTON Forest Berries Envelope 25's
How this product will help you
SIR THOMAS LIPTON is a distinctive range of premium tea from the world's most renowned tea regions.
Each tea bag is in an individual foil envelope to ensure optimum quality, freshness & hygiene.
Ideal for your conference and in-room assortment.
Other flavours in this range include English Breakfast, Earl Grey, Green Tea, Green Tea with Jasmine, Lemon, and Chamomile.
More Product Information
All product information
Benefits & Allergen Information
Halal Certified

Rainforest Alliance Certified
Ingredients
Tea (92%), berries flavour.