SIR THOMAS LIPTON English Breakfast Envelope Tea 25's
SIR THOMAS LIPTON English Breakfast Envelope Tea 25's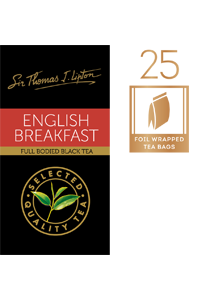 SIR THOMAS LIPTON English Breakfast Envelope Tea 25's
How this product will help you
All your occasions are covered with the Sir Thomas Lipton range of packs
From the 25s which are ideal for dining areas and conferences to the larger 500s which are perfect for in-room
Display solutions to complete the Sir Thomas Lipton experience for your guests for every occasion
More Product Information
---
Exceeding the expectations of guests is essential.
Impress your guests with Sir Thomas Lipton teas, exclusively selected from the world's renowned tea regions.
How this product will help you
All your occasions are covered with the Sir Thomas Lipton range of packs
From the 25s which are ideal for dining areas and conferences to the larger 500s which are perfect for in-room
Display solutions to complete the Sir Thomas Lipton experience for your guests for every occasion
From the WORLD'S FINEST tea regions.
---
All product information
Benefits & Allergen Information
Halal Certified

Suitable for Vegetarians
Additional Benefits
Halal Certified
Suitable for Vegetarians
Key product information
Description
Black tea. A popular blend of Kenyan, Ceylon and other choice teas, notable for their bold, robust flavour.
Usage information
Preparation
Place one tea bag for each person in a cup or pot. Pour in fresh boiling water. Allow to infuse for 2-3 minutes. Add milk, sugar or honey as desired.
Yield
Weight - 60 g. Weight per serving/portion - 2.4 g.
Benefits
100% Rainforest Alliance Certified Tea.
Storage
Store in a cool dry place.