SIR THOMAS LIPTON English Breakfast 100's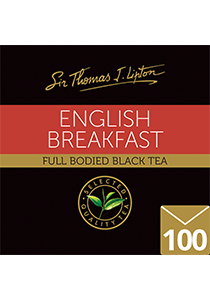 SIR THOMAS LIPTON English Breakfast 100's
How this product will help you
SIR THOMAS LIPTON is a distinctive range of premium tea from the world's most renowned tea regions. Each tea bag is in an individual foil envelope to ensure optimum quality, freshness & hygiene.
A full-bodied black tea with a blend of Kenyan, Ceylon and other black teas for a robust, bold flavour that goes well with milk. Also available in packs of 25s and 500s.
Other flavours to complete the range are Earl Grey, Decaffeinated, Green Tea, Green Tea with Jasmine, Peppermint, Lemon and Chamomile.
100% Rainforest Alliance Certified.
More Product Information
All product information
Benefits & Allergen Information
Recycle

Halal Certified

Suitable for Vegetarians

Rainforest Alliance Certified

Vegan