LIPTON Yellow Label Gold Foil Envelope 500's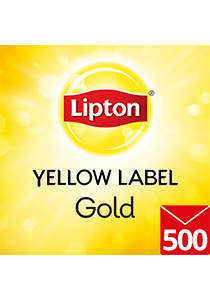 LIPTON Yellow Label Gold Foil Envelope 500's
How this product will help you
Discover the flavour of LIPTON Yellow Label Gold Tea made with sun ripened tea leaves.
With 2 grams of tea in a bag, this makes for a strong, rich cup of tea perfect with milk.
100% sustainably sourced tea leaves from Rainforest Alliance Certified Farms.
This product comes in foil sealed fresh pack envelopes locking in the aroma. Ideal for medium and large sized offices.
More Product Information
All product information
Benefits & Allergen Information
Recycle

Rainforest Alliance Certified
Ingredients
Black tea (with natural tea essence).
Nutrition Information
Download product information
* Across Australia and New Zealand. Safe Work Australia 2013, Mental stress costs Australian businesses more than $10 billion per year, accessed 10 Feb 2016, www.safeworkaustralia.gov.au/sites/swa/media-events/media-releases/pages/mr08042013